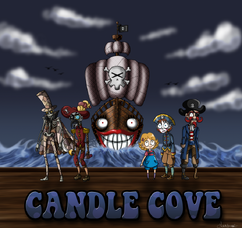 Many fans have had various theories about Candle Cove. Some have wondered if the show had deeper meaning. The most prominant theories are listed here.
Symbolism
Reality of Candle Cove
Some believe that Candle Cove may be a hallucination caused by schizophrenia, but is considered highly unlikely. Nevertheless, it was going to be used in the Candle Cove film, but the film was never made due to copyright issues and controversy.
Some believe that Candle Cove is another world, where the inhabitants are living puppets. Most site the realistic movements of many of the main characters. Some have even noticed that Poppy's and the Skin-Taker's strings droop slightly, as if  they were not actually supporting the puppets.
The most persistent theory is that Janice imagined the world to deal with Melrose's torment.

There is another theory that the show took place in Percy's imagination.
Other Theories
Partially Confirmed Theories
When Milo spoke his last few lines, his voice actor changed before he was killed off-screen. It is speculated that when the character died, the original actor died with him. However, remnants of the script show that the lines voiced by the second's voice actor were unscripted. One member of the development team claimed that the puppet spoke on its own, adding fuel to the previously mentioned theory of the puppets being haunted. However, Milo's voice actor did die when the episode was made.
Thade and Lillian  in the cartoon pilot and novel series  were portrayed as close. This has caused some fans to believe that Lillian was referring to the Skin-Taker (who previously was Thade Soben) when telling Auburn about her father in the novel Candle Cove: In Red Tides, since she told Auburn her father was "sick" and Thade Soben had lost his mind, which could hint at mental illness. It has also been noted in interviews about the unreleased books that both characters had a ring on their left hand. There is a lot of evidence that the novels were going to reveal that Lillian and Thade were married, and Auburn is their daughter, but the series was never finished.
Denied Theories
Some claim that Janice deals with child abuse, but most fans dismiss this theory due to the unlikelihood such a topic would be discussed on a kid's show in the 70's. Also, it has been denied by creators.
Some believe in the Screaming Episode an Eldritch Abomination ate the world, but the episode was revealed to have been a broadcasting test, though some crew members claim that, actually, it was an error. The screaming was only supposed to be a few seconds to a minute long, and a reaction to the Skin-Taker's latest scheme, but it accidentally looped over and over.