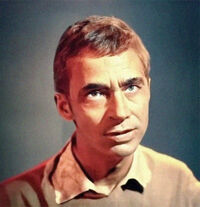 Guy Schmitt
(1912-1971) was an actor who voiced
Calvery Stankoff
.
Biography
Despite being born and raised in the United States, he had a thick German accent, most likely because his parents were immigrants. His German heritage led to some discrimination during his childhood.
During his childhood and teenage years, he often performed in school plays and musicals, often getting lead parts. During his young adult years, he also participated in many community theater productions, including playing Captain Hook and Mr. Darling in a local production of the play Peter Pan.
Candle Cove
In 1971, he was contacted by his friend Emerson Grimes to voice the character Calvery Stankoff. Guy Schmitt accepted the job, and enjoyed voicing the character.
However, just days before the Screaming Episode was shot, Guy Schmitt was found dead by his wife. He had been stabbed with a knife, and fallen onto it while trying to get away.
Police tried to place blame on a man living in town with a mental disability (as back then mentally disabled people were often blamed for crimes) but it turned out the man was out of town visiting his grandmother during the entire month, and thus could not have done it.
The murderer was never caught, but some believe this event is what pushed Emerson Grimes to the point of insanity. He is considered a victim of the Candle Cove Curse because of his strange and untimely death.