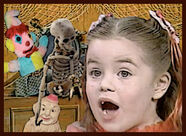 The episodes of Candle Cove are as follows, in order of airing. Due to the short time needed to produce the episodes, both seasons were broadcasted between 1971 and 1972. There was a two month hiatus between the airing of the two seasons. Each episode was roughly 20-25 minutes long.
Season One
Season Two
Ad blocker interference detected!
Wikia is a free-to-use site that makes money from advertising. We have a modified experience for viewers using ad blockers

Wikia is not accessible if you've made further modifications. Remove the custom ad blocker rule(s) and the page will load as expected.