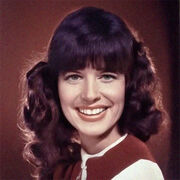 Lynn Huntington (born 1937) is the director of the pilot of Candle Cove.
Biography
She joined Thrives and Laberge in 1970. It is speculated that after the pilot, she was put in charge of directing the episodes of the first and second seasons along with Lorne Anderson.
However, it is said that Emerson Grimes was in charge of directing those episodes. Some fans believe that she may have co-directed the series but received no credit.
Trivia
It is possible that she directed the 1980's cartoon pilot.