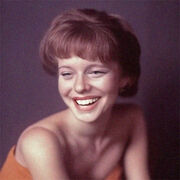 Mary Prescott
(1950-2001) was a Plastic Arts student from the University of Ohio and one of the original developers of the
Candle Cove
TV show.
Biography
She was commissioned by Tom Thrives in 1968 to build the puppets. The budget given to her and her partner Caroline Barker was extremely small, resulting in them having little to work with, so the puppets looked cheaply made.
Prescott was an heir of the rights of the TV show by 1987, however she had plans to move to California and sold her part of the rights for an undisclosed amount to Caroline Barker.
She often described her involvment as a "dark time" for her, and has stated she considered the franchise to be "sinister" and no longer wanted it in her life. When questioned why, she simply stated, "You'll never get the truth about that show. Not from anyone."
Ad blocker interference detected!
Wikia is a free-to-use site that makes money from advertising. We have a modified experience for viewers using ad blockers

Wikia is not accessible if you've made further modifications. Remove the custom ad blocker rule(s) and the page will load as expected.