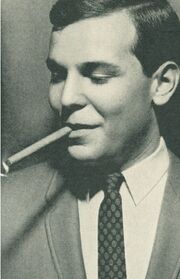 Roger Banks
 (1925-19??) is the actor who played 
Poppy
during the second season of Candle Cove.
Biography
He replaced Jack Gannon, who had quit. He was very enthuisiastic about the part as his oldest son was a fan of the show. He had a thick Irish accent, unlike Jack Gannon.
Unfortunately, his acting career failed miserably after the show ended. His fate afterwards is currently unknown.
Ad blocker interference detected!
Wikia is a free-to-use site that makes money from advertising. We have a modified experience for viewers using ad blockers

Wikia is not accessible if you've made further modifications. Remove the custom ad blocker rule(s) and the page will load as expected.