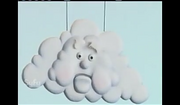 The creepypasta, candle cove, was adapted to a part of a miniseries known as channel zero, shown on syfy. Appearing on this adaptation was an anthromoporthized cloud who often chatted with Percy. Little is known about him. He told Percy and laughingstock that they where approaching bravery cave. He also tried, unsuccessfully, to warn Percy that the Skin Taker was hiding in a treasure chest, which Percy assumed was full of treasure.
Ad blocker interference detected!
Wikia is a free-to-use site that makes money from advertising. We have a modified experience for viewers using ad blockers

Wikia is not accessible if you've made further modifications. Remove the custom ad blocker rule(s) and the page will load as expected.